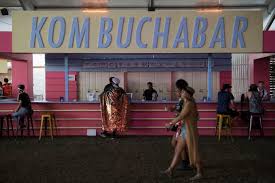 Good news for the kombucha industry—it's a hit with millennials.
Bravo's Alesandra Dubin checked in from the annual Coachella music and all-things-cool fest to say that the kombucha bar was one of the best food-related things she found at the California event.
Durbin writes: Maybe it's the L.A. girl in me, but I just love me some kombucha — nothing makes me feel more refreshed and detoxified than a swig of the stuff, even if most of the benefit is psychological. This year's new curated on-site program featuring kombucha sommeliers, and I was pretty psyched to try some of the brews made just for the festival.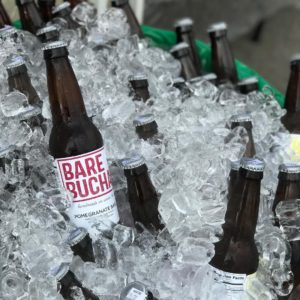 Here in Austin, as this article from the Baylor Lariat points out, we have about four or five kombucha brewers, but poor Waco (96 miles north of Texas' capital) was probiotic beverage free until the launch of Bare Bucha. Sold from a van that makes its way around town to various markets, Bare Bucha also can be found at some local store.
"We are the only people in Waco who make our kombucha here, and sell it here," Kelly Doolittle, manager of operations at Bare Bucha said in a recent interview. "There are several Austin companies that sell it here; Austin has at least five to six big companies that all sell nationwide."
Doolittle goes on to expand on the claim that everything is bigger in Texas—including kombucha: "Because of Austin, [the state of] Texas is one of the biggest consumers and sellers of kombucha in the United States," Doolittle said. "There's a market for kombucha here, and we're not necessarily trying to create it, but strengthen it. There are a lot of people who are adventurous, who are into this health-type stuff. Even if they don't know what kombucha is, they're very willing to try it."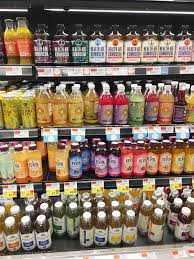 Perhaps it's the influence of its new master, Amazon, but Whole Foods released some data that shows what its top sellers are in various regions.
In the Midwest (as tabulated from a store in Cincinnati), Live Soda (a probiotic beverage) is listed as an "up and comer."
In the Northeast (as tabulated from a store in Piscataway, N.J.), KeVita Master Brew Kombucha is a top-selling beverage.
In the Northwest (as tabulated from a store in Whitefish, MT), GT's Kombucha takes the top two spots followed by KeVita Apple Cider Vinegar Tonic Elderberry.
In the Southwest (as tabulated from a store in Sierra, AZ), the top up and comer is Wild Tonic Kombucha, on tap in the store.
In the West (as tabulated from a store in Concord, CA), GT's Kombucha came in second in the beverage category.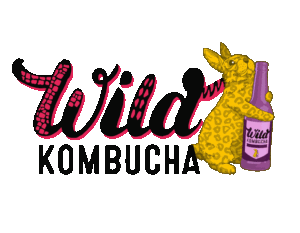 From our best of Twitter:
You must love this Tweet from Wild Kombucha
Our biggest competitor is tap water.

— Wild Kombucha (@WILDKombucha) April 24, 2018

And anyone who loves the beach will adore this Tweet featuring a bottle of Big Easy kombucha against the backdrop of a large, tantalizing stretch of sand (presumable somewhere along the Gulf).
This kombucha is LIFE @BigEasyBucha pic.twitter.com/w2OZNSdXWN

— Jovan (@jovan_rachel) April 23, 2018