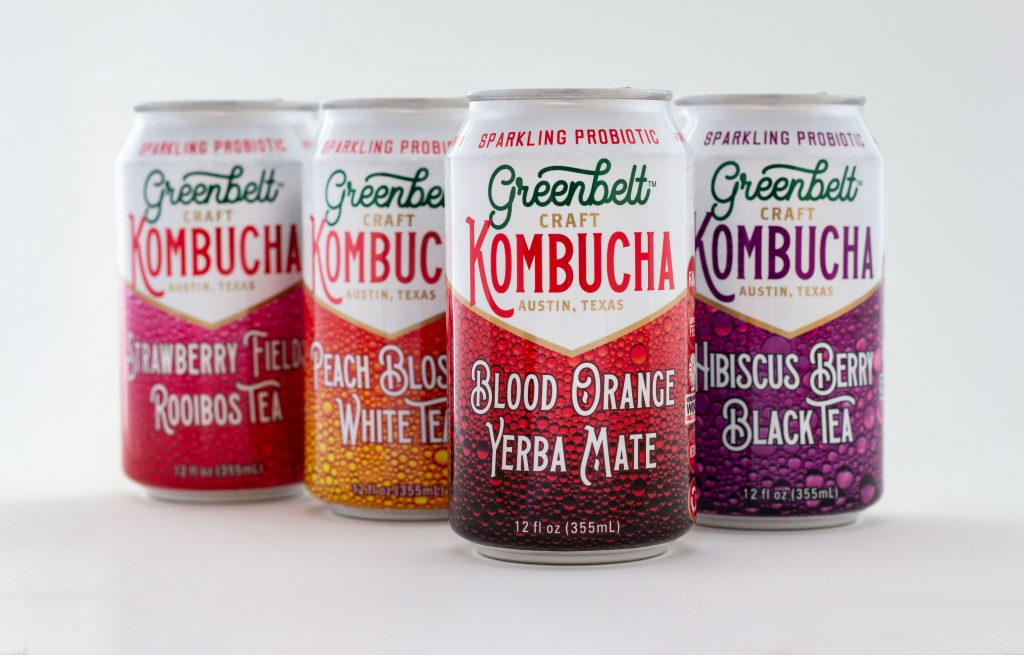 Kombucha hunting is an essential party of our travels. We were shopping recently at our favorite HEB grocery store when we came across Greenbelt Kombucha. The beverage from this newcomer to the local scene comes is in a can which is what caught our eye.
However, the entrepreneurs behind the product are not new to the local food and beverage scene. As this story in the school newspaper reports, five co-founders, including three University of Texas Business Grads, have been working on a series of fermented food and beverage offerings over the past few years.
Initially, their products were pickled/preserved items for Hat Creek Burgers. That business was spun off into a separate food entity, Barrel Creek Provisions, when we encountered them at the local Fermentation Fair. Their next ventures were into fermented beverages — Strange Land Brewery, Texas Sake Company, and now, Greenbelt Kombucha.
Strange Land initially offered bottle-conditioned beer before evolving into cans to provide more stable shelf life. It appears they are following the same path with their kombucha.
Lessons learned from beer production have been applied to the kombucha production. Evolution from glass bottles to cans makes the product more portable for Austinites. The kombucha is created to be accessible to everyone, with familiar flavors and a lower price point than their competition. They are raw, vegan and utilize four different teas for their four products. We tried two of the flavors — Hibiscus Berry Black Tea and Blood Orange Yerba Mate. The tastes are mild and refreshing, with minimal fizziness, and are very drinkable. They would be ideal with a meal, as a mixer or sitting at an outdoor concert.
Appealing to the environmentalists in Austin, the entire manufacturing process is utilizing wind powered energy. To us, that just seems to go hand in hand with the good stuff that kombucha does to the body.