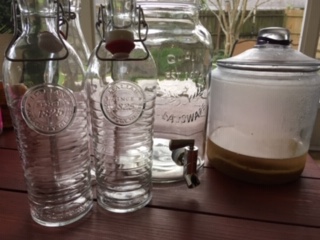 Kombucha is on its way to coming out of the shadows and into the mainstream. From the increased offerings in supermarkets to varieties available on tap in restaurants and bars, as well as becoming an ingredient in some cool, crafted cocktails — the recognition, if not consumption of the healthy beverage, is becoming a consumer beverage of choice.
A natural outgrowth of that is people wanting to brew their own. When we started several years ago, there were minimal options for home brewing, including supplies, instructions, and equipment. It was really a DIY operation. As kombucha brewing has evolved, there are now many kits and accessories on the market to aid novice home brewers.
In addition to the many entrepreneurs selling starter kits (which include a scoby starter and tea bags), products such as a conical brewing system are geared to ensuring greater success for the more experienced home brewer. For those wanting a high-tech approach to their kombucha fermentation, companies such as Panasonic are working on contraptions such as The Ferment. The Ferment, featured at SXSW 2017, is an automated, Wi-Fi enabled brewing system. While built to ferment all matter of foods, the product provides an easy approach to brewing time-and-temp-controlled fermented beverages.
The folks behind the Pico Brew home beer-making system introduced a kombucha-brewing machine which operated in a similar fashion to its cerveza device but allowed fermentation geared toward probiotic beverages. Beyond its Kickstarter efforts for such a product, the company now sells Pico-Paks which allow consumers to make kombucha on a wide variety of the company's machine.
As kombucha goes further into the global mainstream, with kombucha taprooms and mega retailers adding more choices to the shelves, we likely will see an increasing number of devices that aid in coming up with the perfect home brew. The future is bright, not to mention fermented.